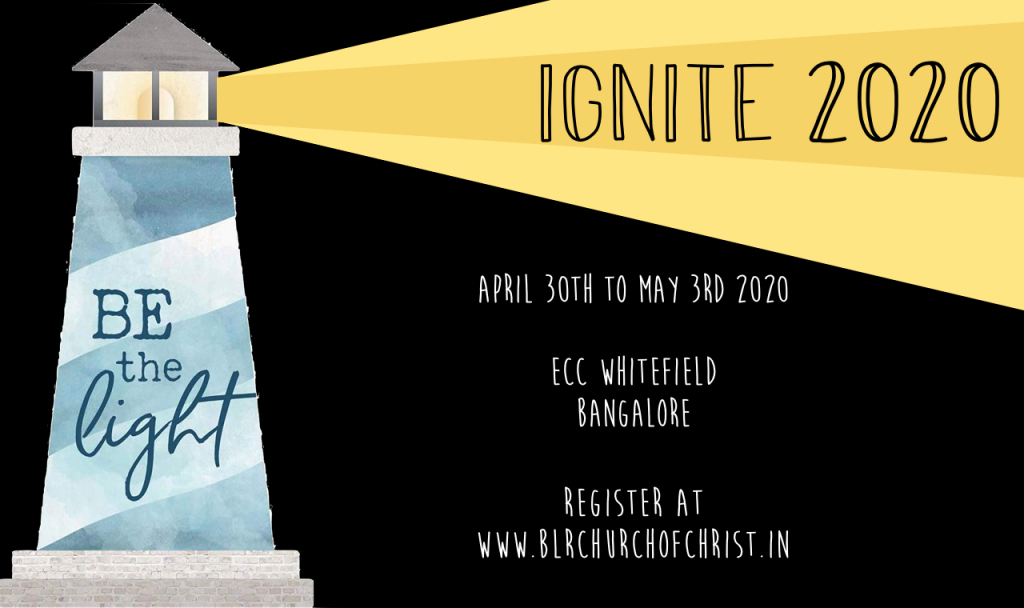 In view of the prevailing Corona Virus situation in the country and the national lockdown that has been extended upto 3rd May 2020, we regret to inform you that IGNITE 2020 stands cancelled.
We are looking at the possibility of conducting it later during the year when the situation improves and will keep you updated on the same.
---
Welcome to IGNITE 2020!
Dates : April 30th to May 3rd, 2020
Venue : Ecumenical Christian Centre (ECC), Whitefield, Bangalore – 560066. Phone: 080 2845 2270
Theme : Be the Light!
IGNITE 2020 is a 4-day Youth Camp being held at Bengaluru for Church of Christ youths from all across India. Our aim is to inspire christian youths to live for Christ and ignite their faith to achieve great things for the Lord.
Get ready to spend 4 awesome days of christian fellowship, spiritual learning, uplifting songs, challenging discussions, bible quiz and games, fun activities and above all an environment that challenges you to take your faith to the next level and be the light for Christ in the world.
Registrations for IGNITE 2020 are now open! Please click here to register.
Hurry! Limited seats available and registrations are filling up fast!! (80% of seats are booked as of 7th March 2020)
Last date for Registration is 29th March 2020 or when seats are full.

---
IGNITE 2020 details:
Dates : Thursday, April 30th to Sunday, May 3rd 2020

Camp Start Time : 11am on Thursday, April 30th 2020

Camp End Time : 2pm on Sunday, May 3rd 2020

Venue : Ecumenical Christian Centre Road, ECC Rd, Whitefield, Bangalore, Karnataka 560066 Phone: 080 2845 2270 (Google Map Location : https://goo.gl/maps/oXQ8WVzJzfyuFdui9)

Age Limit : Men and women in the age group of 16 – 30 yrs. Married couples in this age group are welcome. However, facilities for children and family accomodation are not available.

Language : All sessions/activities will be conducted in English. Partcipants are expected to have a working knowledge of English to take full benefit of the camp.

Registration Fee : Rs.500/- per participant, to be paid on arrival at the venue. (includes food/accomodation)

Food : Vegetarian and Non-Vegetarian food will be served.

Accomodation : Men and women will be housed in separate rooms/dormitories.

Travel : Outstation Participants have to arrange to and fro travel at their own cost.

Pick-up : Outstation Participants will be picked up from Bangalore Bus Stand/Railway Station/Airport on Thursday, 30th April 2020 Morning

Drop-back : Outstation Participants will be dropped back to Bangalore Bus Stand/Railway Station/Airport on Sunday, 3rd May 2020 after Lunch

Railway Stations : Whitefield (WFD), K.R.Puram (KJM), Bangalore Cant. (BNC) and Bangalore City (KSR-SBC)
For any questions/clarifications, please call our IGNITE 2020 Coordinator, Ringdai at +91 86600 80713
or Email us at : ignite@blrchurchofchrist.in
Thank you and look forward to seeing you at IGNITE 2020!
Facebook Page : Ignite Youth Camp (https://www.facebook.com/Ignite2020YouthCamp)
Instagram : @ignite_blrchurchofchrist (http://tiny.cc/IGNITE2020Instagram)
---
IGNITE 2020 Venue Photos and Google Map Location :